Help London Town rebuild our colonial tavern's lost bar and make new history today!
What is #BuildtheBar?
The William Brown House is the crown jewel of Historic London Town and Gardens' colonial village. Originally constructed around 1760 by William Brown, the House was a boarding house and tavern before becoming Anne Arundel County's almshouse. Today, it is a National Historic Landmark and interpreted as a colonial tavern.
However, our tavern is missing a key feature – its bar!
Recently London Town received funding from the State of Maryland and Anne Arundel County to do behind-the-scenes work to preserve the 250+ year old Brown House. This support will make sure water doesn't seep into the walls and that the electricity is upgraded.
While the funding won't cover recreating the bar, doing the work gives us the perfect opportunity to reinstall the bar. We're not sure if this chance will ever come again.
Hey, Wait a Second, Didn't I Just See London Town on Booze Traveler on the Travel Channel?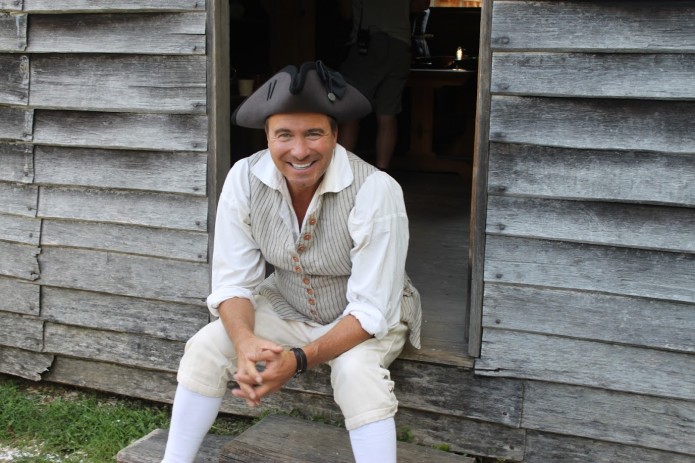 Image of Jack Maxwell, host of Booze Traveler, in colonial attire at Historic London Town & Gardens
Yep! Historic London Town and Gardens and the William Brown House were recently featured on the Travel Channel's show Booze Traveler. You might even recognize our executive director Rod Cofield in the video above as the one who showed the host Jack Maxwell how to mix various colonial era drinks. Alcohol was an important part of colonial Chesapeake daily life, and we'll do a better job sharing that history with the bar rebuilt.
What Does London Town Need?
Your support will allow the bar to return to the William Brown House. Thanks to your generosity, we will work with master craftsmen and construct the bar in appropriate colonial style. The sketch below is based upon blueprints from a 1970s attempt at recreating the bar.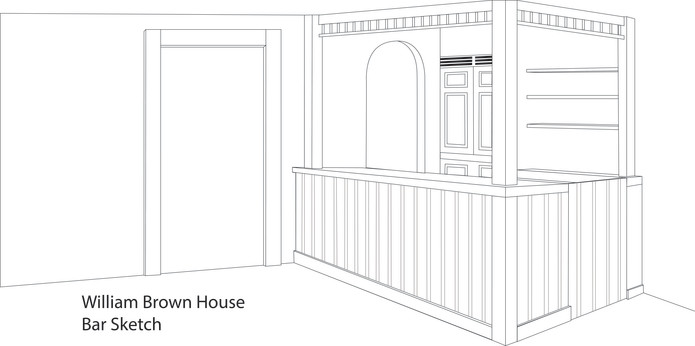 Sketch of the proposed bar in the William Brown House.
To build the bar, we need $15,000. This will cover the cost of materials, labor, and installation as well as opening the pass-through from the tavern room to the bar. It will also allow us to do some basic kitting of the bar with mugs, steins, and jars.
If we receive more than $15,000, we can do more extensive kitting, add a tavern sign out front, and improve the furnishing of the tavern room.
When Will the Bar Open for Business?
Constructing the bar may take 1 – 2 years, depending on the schedule of work for water mitigation and electrical upgrades. We will keep you posted on its progress.
Once the bar is installed, London Town will be able to offer more in-depth living history experiences, such as new and expanded public programs on colonial life in the Chesapeake. Note that London Town will not be offering alcohol or other drinks at the bar on a daily basis but only at special, designated events.
Even if we don't receive our entire funding goal, any amount will help us offset the costs and make rebuilding the bar a reality. If this occurs, then we will work on constructing the bar in phases, but it will still happen – maybe just a little later than initially planned!
How Can I Help?
A donation of any size will be incredibly helpful! We have some great perks if you donate today. Check out the rewards on the right for a full list.
All or a portion of your contribution may be tax deductible, depending on if you select a perk or not. Please consult your tax advisor. London Town's Tax ID/EIN is 52-1396159.
And even if you can't contribute, we will be grateful if you help us share the word about this campaign. Remember to use #buildthebar and tag us @historiclondontown.
Thank you!
About Historic London Town and Gardens
Historic London Town and Gardens is operated by the London Town Foundation, a private 501c3 nonprofit organization (Tax ID/EIN 52-1396159). We run Historic London Town and Gardens on behalf of Anne Arundel County Recreation and Parks. However, we raise more than 75% of our funding to manage the museum and gardens each year.
London Town is a 23-acre museum and park on the South River, a tributary of the Chesapeake Bay. Our colonial village includes not only the William Brown House but also two reconstructed buildings on their archaeological footprint: The Lord Mayor's Tenement and the Carpenter's Shop. Inside the Visitor Center is a large interactive exhibit about the archaeology and development of the colonial port town.
Additionally, London Town has nearly 10 acres of woodland and ornamental gardens. At this time of the year, see our collections of azaleas and peonies in bloom!
Each year, more than 25,000 people visit the site, including more than 5,000 students who come to discover colonial history in their own backyard. We also offer a wide array of public programs, including living history days, and rentals for weddings and other celebrations. Learn more about London Town at www.historiclondontown.org.
Questions?
Interested in learning more about the campaign? Please contact Lauren Silberman, deputy director, at 410-222-1919 x205 or lauren@historiclondontown.org.
Special Thanks
Special thanks to our intern Kevin Pounds for writing and directing our amazing campaign video and to all of the wonderful volunteers who helped us bring it to life!
The Fine Print
Historic London Town and Gardens is using CauseVox, a third-party online advocacy and fundraising application. Please be advised that CauseVox's Terms of Service and Privacy Policy apply to your use of this service.
We thank you for your interest in making a gift to Historic London Town and Gardens through CauseVox. We want you to be aware that in doing so, your contribution is managed by CauseVox, a third party not managed by or affiliated with Historic London Town and Gardens. Please familiarize yourself with their terms, including their privacy policy. The Museum is unable to answer any inquiries regarding the status of your donation while it is being processed by CauseVox.